Yeah, I know, most of you thought I was already unemployed. Sun is being very generous, though…
I got my RIF notice on 31 March, but I've remained on payroll and benefits through yesterday.
This week, I can file the paperwork for my severance package, and start really looking for a new job.
The job market is pretty thin, at the moment. Over the past two months, I've only managed to get one interview (though I haven't been trying very hard). Fortunately, I don't have my heart set on doing the same job I've been doing. While I've really enjoyed being a technology guru, I'm ready to try something new, and if any of my dear readers have something in mind (or a job opening they would like to fill), I'm open to suggestions.
Good news for Doctor Who fans in the US – BBC America have announced that the final five David Tennant episodes of Doctor Who will air starting this summer.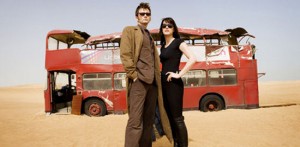 First will be the Christmas 2008 special, "The Next Doctor", which will air on 27 June. The Easter special, "Planet of the Dead" will air on 26 July. The Fall special, "The Waters of Mars" will air on BBC One on 15 November and on BBC America on 19 December, and the two-part Winter special, "The End of Time"  will follow with Part 1 on 25 December 2009 (26 December on BBC America) and Part 2 on New Year's Day 2010 (2 January on BBC America).
David Tennant will also have a guest spot in two of the twelve episodes of the Doctor Who spin-off series, "The Sarah Jane Adventures", in its third season, which will start in September on CBBC.
And as an additional bonus, the outstanding supernatural fantasy, "Being Human" will begin on 25 July on BBC America. In this series, a Vampire, a Werewolf, and a Ghost (sounds like the beginning of a joke, doesn't it?) share a flat in Bristol and try to blend in and lead a normal life. And, yes, at the end of the pilot, they all walk into a Pub. I do hope they air the pilot. If not, our trio don't get to a Pub until the third episode. This series is brilliant! Don't miss it.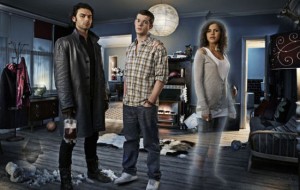 30 October 2009 Update
Updated show dates for "The Waters of Mars" and the title of the final two-part episode.
21 November 2009 Update
Updated show dates for "The End of Time, Part 1″.
22 December Update
Updated show dates for "The End of Time, Part 2″.
I know I'm ranting, here, but I just can't help it. So, I apologize in advance.
I was a vocal opponent of hardware dongles and key disks way back in the 80′s, and I thought we were beyond that, until I started looking into Digital Audio Workstation software for my home Voice Over recording studio.
After reviewing what was available, I settled on Pro Tools, since I needed an interface for my studio microphone anyway (XLR connection and 48 volt power), and Pro Tools came bundled with a pretty good one. I only bristled at the hardware dongle aspect for a moment (the software won't run without one of the approved audio interfaces attached). I acquiesced since, for my purposes, I'd need to have one attached to do anything useful (you can't do much voice recording without a microphone).
Upon installing Pro Tools, I quickly verified that it wouldn't start without the interface, then I connected the interface (Digidesign Mbox 2), and it started right up … almost.
Now, even though it would seem that the presence or absence of the Mbox2 effectively implements any needed copy protection, on the first execution of Pro Tools I still had to enter:
A 14-random-character ID
A 4-character "Release Code"
An 11-character serial number
…for the connected interface. WTF?
Pro Tools comes with a wealth of plug-ins, many of which look really useful. In addition, the package I purchased included a bundle of added plug-ins. On going through the packaging, I discovered that these additions required key codes to use, and these codes reside on a USB dongle (a PACE iLok). But, in addition to requiring the presence of the iLok, the first time I tried to use them, up popped a dialog requiring entry of:
A 14-random-character ID
An 11-character serial number
Again, WTF?
Cryptic software keys are bad enough, hardware dongles are almost always bad, but both?!?!?
Maybe it's just me, but this really bothers me.
Addendum
A reader has pointed out that DAW applications (and all audio apps) are heavily pirated. I still contend, however, that no copy protection scheme has ever managed anything more than to temporarily slow down the pirates and crackers, and at the cost of unduly punishing legitimate users.
The more egregious the copy protection, the more you alienate your Paying Customers! And for the others, it only needs to be cracked once. Copy protection has never made good economic sense, and it still doesn't.