In 1983, I decided to get a tattoo.
In part, it was a social experiment. I had recently completed a contract which had me living with Navy SEALs for a few months, and had begun to see the differences in how others reacted to the guys with and without tattoos. It was long before tattoos had gone mainstream – in fact, tattoo parlors were still illegal in New York City, as well as many other places. Still, I felt a tattoo fitted who I was at the time, and decided to get one which could easily be covered by a short-sleeve shirt, and which could also be partially or fully exposed, if I so desired.
I commissioned the artwork from Dawn Wilson, a well-known Science Fiction illustrator, and was very pleased with the design she came up with. Then, I set out to find a tattoo parlor and learn more about what was involved. I ended up visiting every tattoo artist I could find from New York through Virginia, and met a lot of interesting characters. That story will have to wait for a much longer post (or series of posts).
Early in 1984, I settled on Great Southern Tattoo in College Park, MD. Charley And Sandy Parsons were (and are) talented artists, and they sterilized all of their needles in an autoclave. I felt safer there, and I liked them personally. This was, incidentally, just a few months before my daughter was born.
Having found the tattoo parlor, I sat for a 2 1/2 hour session, and then the social experiment started. The details of this will also have to wait, but I feel confident that I would not get similar reactions if I were to do it today. I have also never regretted having the tattoo. I'm still looking for old photos of the actual tattoo, but haven't found any so far.
Fast forward 22 years. I was diagnosed with testicular cancer, and underwent surgery and radiation treatments. My Radiation Oncologist tattooed a grid of dots on my body to ensure that I was lined up exactly the same in the beam every day.
This gave my darling Goth Princess daughter the idea to have a tattoo done in my honor (by this time, she already had three). Over the course  of the next couple of years, Maeve had a friend design the tattoo, and worked in a number of features referring to me:
It's a Mermaid
Her shirt is made from a torn-up Diver flag
She is holding a Chaos symbol
Hidden in her hair are my initials
Maeve had her tattoo done at Read Street Tattoo Parlor in Baltimore, MD. All in all, it took 3 sessions and a total of 4 1/2 hours. It was supposed to be a surprise, but when the time came for her first appointment, nobody else was available to sit with her, so she called me. With the cat out of the bag, I accompanied Maeve for all three sessions Here are photos taken at the end of each one.
The folks at Read Street were interested in seeing my "old school" tattoo, and until I found myself having to explain what it was, I hadn't realized just how much it had faded over 26 years. So, I went back to Great Southern (at their new location in Alexandria, VA), and had mine touched up. It took about 2 hours, and came out great. What's more, they did it for free, explaining that their work is guaranteed, and that includes touch-ups. You can't beat that for customer service.
Once I find an  old photo of my tattoo, I'll add it here. Here is a before and after, though. The first was taken the day before my touch-up, the second as soon as it was done.
If you're in the Baltimore-Washington area and looking to have a tattoo done, consider Read Street Tattoo Parlor and Great Southern Tattoo.
17 December 2010 Update
My story was featured on the cover of the December 2010 issue of The Beacon Newspaper.

Posted from Groveton, Virginia, United States.
Make no mistake, I'm very pleased that Fringe returned on 1 April, and Stargate Universe comes back from a 4-month hiatus tonight (2 April), but I'm even more excited with what's in store on BBC One this weekend
The biggest one first, even though it comes second (as they both involve time travel, it doesn't matter). On Saturday, 3 April, the eleventh Doctor (and the youngest one ever), Matt Smith, arrives for his first adventure in "The Eleventh Hour":
The Doctor has regenerated into a brand new man, but danger strikes before he can even recover. With the TARDIS wrecked, and the sonic screwdriver destroyed, the new Doctor has just 20 minutes to save the whole world – and only Amy Pond (Karen Gillan) to help him.
And on Friday, 2 April, Philip Glenister and Keeley Hawes return for a final time in the time-travelling drama Ashes To Ashes:
The third and final series of Ashes to Ashes is back – and it's a real slap in the face for DI Alex Drake. Time travelling copper Alex thought she'd made it home to the present day, but wakes to find herself in a hospital bed back in 1983, having been shot by her boss, DCI Gene Hunt, three months ago.
Back in CID a lot has changed; with Gene on the run, Ray Carling has been promoted to DI and is running the show, while DC Chris Skelton and WPC Shaz Granger have ended their romance and new Discipline and Complaints officer, DCI Jim Keats, is breathing down everyone's necks.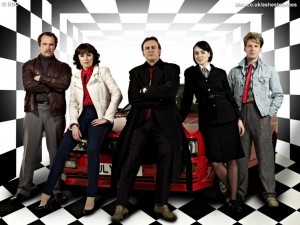 6 April 2010 Update
The new Series of Doctor Who will have its US premiere just two weeks later, 17 April, on BBC America.
Also, while the US won't see Series 3 of Ashes to Ashes for a while, Series 2 starts 11 May on BBC America.

Posted from Rockville, Maryland, United States.