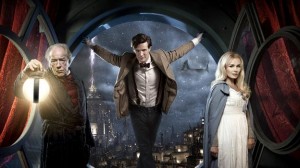 Probably the most exciting thing about this year's Doctor Who Christmas special is that it will actually be shown in the US on the same day as in the UK, rather than the delay of several days or weeks that normally occurs.
Details are still coming in, but we do know that this episode will air on 25 December 2010, on BBC One in the UK, as well as BBC America in the US.
The following synopsis has been posted on the BBC web site:
Amy and Rory are trapped on a crashing space liner, and the only way The Doctor can rescue them is to save the soul of a lonely old miser, in a festive edition of the time-travelling adventure, written by Steven Moffat. But is Kazran Sardick, the richest man in Sardicktown, beyond redemption? And what is lurking in the fogs of Christmas Eve?'

Joining Matt Smith (The Doctor), Karen Gillan (Amy Pond) and Arthur Darvill (Rory Williams), Michael Gambon plays Kazran Sardick and Katherine Jenkins plays Abigail.
Also, a preview trailer was shown during the Children In Need appeal on 19 November (see below, available in HD). It includes a cool tag line, "Time can be re-written. People can't". Producer Stephen Moffat stated, "Oh, we're going for broke with this one. It's all your favorite Christmas movies at once, in an hour, with monsters. And the Doctor. And a honeymoon. And … oh, you'll see. I've honestly never been so excited about writing anything!"