I've only been riding for a month now, and slowly building up as I go.
Today, I went with an REI class on the W&OD Trail. While I didn't actually manage to go the full distance with the group, and had to walk up a couple of the hills (not all of them, though), I put in 10.4 miles, which is more than double my longest previous ride.
I also took my first fall today. It looked pretty dramatic, quite a bit of blood, but it's not so bad. No stitches required.
I think I'll lay off riding for a few days until my leg heals, but I'm absolutely planning to get back in the saddle again.

Posted from Rockville, Maryland, United States.
Actually, I've been told that about a lot of things over the years. And up until now, I've had to reply that this saying is meaningless to me, as I've never learned to ride a bike.
Fortunately, that's changing. Here's a photo of my first bike, which I picked up about two weeks ago.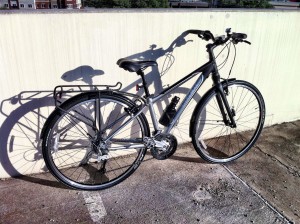 The folks at Revolution Cycles in Rockville couldn't have been better. They spent a great deal of time answering all of my questions, and even stayed for almost an hour after closing time to help me pick out the right bike (and to get my money, of course).
I've been trying to get out and ride about every other day, and am slowly working up to longer rides. My longest ride so far is just a bit over four miles, but that's not bad for someone who before last month had never been on a bike.
For now, I'm exploring the bike trails in my neighborhood. I'm still not quite ready to ride in rush hour traffic, but I think I'll get there soon.
And will it be "just Ike riding a bicycle"; meaning, I suppose, something I will never forget how to do? That remains to be seen.

Posted from Minneapolis, Minnesota, United States.