Admittedly, I'm getting pretty tired of waiting for the flying car I was supposed to have by now.
On the other hand, as a technologist, I'm frequently surprised at the amazing Science Fiction gadgets that we take for granted every day (many predicted by Star Trek).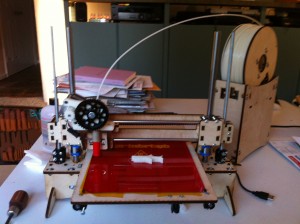 Now, I'm one step closer to a Star Trek-style Replicator. It doesn't have voice control, and won't make "Tea, Earl Grey, hot". But fortunately, it doesn't make something almost, but not quite, exactly unlike tea.
It does, however, make real-world, solid objects out of plastic, directly from the output of 3D modeling software on my computer (including spare parts for the printer itself). And that's pretty cool! Even cooler – the price for a device like this is becoming very affordable. The smaller version is available in kit form for US$549.
I started down this road by backing the Printrbot project on Kickstarter last year. Brook Drumm had the idea of producing an affordable 3D Printer kit. He thought he would be making between 50 and 100 kits. The project was fully funded in under 45 hours, and he ended up with over 1800 backers, and over 1400 kits to be produced. Of course, it took longer than expected, but it was a lot of fun following the project as Brook quit his day job and started a new full-time business of producing the Printrbot and its variants.
In early July, the kit arrived, and I spent any free time I could find building the printer.
The Printrbot started off as a RepRap design, where all of the major parts were themselves 3D printed, and held together by standard parts from your local hardware store. In trying to scale up, both in printer size and in number of printers to be produced, the design changed to one using fewer 3D printed parts, and using laser-cut wood parts for major structural elements. This allowed for making the kits more quickly, as well as making the printers more structurally sound.
I'm excited about this! I'm always finding myself wanting to repair something and in need of some small part, either unavailable or difficult to obtain. I should be able to design and make my own replacement parts now. And I already have a request from one of my SCUBA diving buddies to produce a part he needs for his underwater camera.
Also, there is a wealth of designs already out there. Check out Thingiverse to see what others are designing and releasing to the public.
5 October 2012 Update
Business Insider just published a nice Q&A with Brook Drumm of Printrbot, including some of his near-term future plans. See it here.

Posted from Rockville, Maryland, United States.