This is kind of exciting – another milestone.
This morning, the weather was so beautiful that I decided to take the plunge and do my first bike commute to the new office. So, I loaded all of the office and bike essentials into the panniers and enjoyed an uneventful ride. Locked up at a completely empty bike rack and got to work fresh and relaxed in time for my first meeting of the day.
The loaded panniers added noticeable weight to the bike. I'm guessing I'll be paying the price on the long uphill part of my ride home this evening.
Bonus! The new EMC/Isilon office has a shower! I didn't need it this morning, but I've been given a key and will be able to use it when I do need it.
Update
As expected, the long uphill heading east on Wootton Parkway was considerably harder with the loaded panniers. I had to rest a couple of times, but I made it home without incident, and so ends my first day of bike commuting. I'll definitely be doing more of this.

Posted from Rockville, Maryland, United States.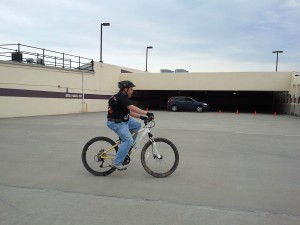 The photo above doesn't look like anything to be proud about, until you consider the facts that I'm in my mid-fifties, and up until this past weekend had never been on a bicycle in my life. I was raised in West Virginia on a mountainside with unpaved roads and scary steep grades. This was also well before mountain bikes were available.
So why now?
First, I have been looking for some form of exercise I can actually enjoy. I have come to realize that I just don't like going to the gym, and neither Sailing nor SCUBA Diving is really very much of a work-out (and they're also not things I can easily do more than once every week or so).
Second, with the acquisition of Isilon Systems by EMC Corporation, I suddenly have an office I can use which is just two miles from home. Better yet, the entire commute is on designated Bike Routes.
With those factors in mind, I started researching what it would take to get into biking with no prior experience, and thanks to REI Outdoor School, I was able to at least get a good start in a single weekend. By late Sunday afternoon, I was getting up on the bike and riding around entirely on my own for a couple of minutes at a time (though I still need a lot of practice before I will really be in control).
I've already ordered my bike, which should be ready for me in about a week. I'm really looking forward to doing a bike commute and to hitting the many wonderful trails in my area.

Posted from Rockville, Maryland, United States.
Today is my first day back at a full-time job since my RIF at Sun Microsystems (and the beginning of this blog).
It's been a tough 19 months. I still can't believe that it took this long to find a job, but I know a number of other folks still looking, and for those of us over 50, the IT job market has been very slim.
Fortunately, I've been able to pay my bills, due largely to the very generous severance package from Sun, and also to a couple of brief consulting gigs, several Voice Over jobs, unemployment benefits, and a few months of part-time work at Trader Joe's.
Now, I'm back to being an SE for a hardware manufacturer. I started today at Isilon Systems, a maker of scalable Network Attached Storage for the Data Center, where I'll be covering US Federal Civilian Agencies. This should be fun – I'll be drawing on the basic skills I built over 17 years at Sun, but will be learning an entirely new product set to apply those skills against.
I like the fact that Isilon is a small company – fewer than 500 employees. I've always done well at small companies, and I often thought that the reason I did so well at Sun for so long was that Sun behaved like a small company until very near the end.
Of course, this advantage won't last. Three days after I signed my acceptance letter, Isilon was acquired by EMC. Still, this should allow me to establish myself at Isilon while it remains a small subsidiary of EMC before the corporate culture changes to that of a big corporation.
One thing for sure – it will be an adventure. Thanks for sharing this ride with me, and keep checking in on this blog to see what happens.