Torchwood comes back tonight on BBC One, with a five episode mini-series, entitled Torchwood: Children of Earth. It will run for five consecutive nights.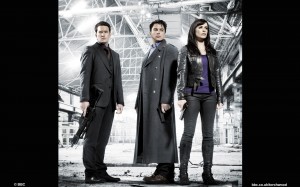 At the end of Series 2, in Exit Wounds, we lost both Owen and Toshiko, and it appeared that Rhys was being pulled into the team.
In the new story, all of the world's children stop – every single one, all at the same moment. Then, they all deliver exactly the same message. Aliens are suspected as the cause, but certain high-ranking government officials also suspect that Torchwood might be involved, and order the destruction of the Hub.
And for Torchwood fans in the US, never fear, Torchwood: Children of Earth comes to BBC America starting on 20 July.