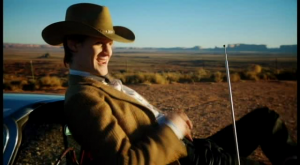 The sixth series of Doctor Who starts off with a bang. Several, actually. The new series is only one episode in, and it's already pretty exciting.
The first episode, "The Impossible Astronaut" is the beginning of a two-parter, and sees our friends the Doctor, Amy Pond, Rory, and River Song going to America in 1969. Just to get things going, one of these characters dies in the first 8 minutes. And there's an all-new alien to face.
Even better, BBC America is showing the new series on the same day as it airs in the UK.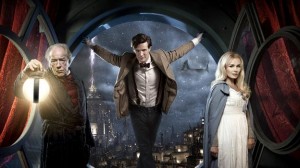 Probably the most exciting thing about this year's Doctor Who Christmas special is that it will actually be shown in the US on the same day as in the UK, rather than the delay of several days or weeks that normally occurs.
Details are still coming in, but we do know that this episode will air on 25 December 2010, on BBC One in the UK, as well as BBC America in the US.
The following synopsis has been posted on the BBC web site:
Amy and Rory are trapped on a crashing space liner, and the only way The Doctor can rescue them is to save the soul of a lonely old miser, in a festive edition of the time-travelling adventure, written by Steven Moffat. But is Kazran Sardick, the richest man in Sardicktown, beyond redemption? And what is lurking in the fogs of Christmas Eve?'

Joining Matt Smith (The Doctor), Karen Gillan (Amy Pond) and Arthur Darvill (Rory Williams), Michael Gambon plays Kazran Sardick and Katherine Jenkins plays Abigail.
Also, a preview trailer was shown during the Children In Need appeal on 19 November (see below, available in HD). It includes a cool tag line, "Time can be re-written. People can't". Producer Stephen Moffat stated, "Oh, we're going for broke with this one. It's all your favorite Christmas movies at once, in an hour, with monsters. And the Doctor. And a honeymoon. And … oh, you'll see. I've honestly never been so excited about writing anything!"
Make no mistake, I'm very pleased that Fringe returned on 1 April, and Stargate Universe comes back from a 4-month hiatus tonight (2 April), but I'm even more excited with what's in store on BBC One this weekend
The biggest one first, even though it comes second (as they both involve time travel, it doesn't matter). On Saturday, 3 April, the eleventh Doctor (and the youngest one ever), Matt Smith, arrives for his first adventure in "The Eleventh Hour":
The Doctor has regenerated into a brand new man, but danger strikes before he can even recover. With the TARDIS wrecked, and the sonic screwdriver destroyed, the new Doctor has just 20 minutes to save the whole world – and only Amy Pond (Karen Gillan) to help him.
And on Friday, 2 April, Philip Glenister and Keeley Hawes return for a final time in the time-travelling drama Ashes To Ashes:
The third and final series of Ashes to Ashes is back – and it's a real slap in the face for DI Alex Drake. Time travelling copper Alex thought she'd made it home to the present day, but wakes to find herself in a hospital bed back in 1983, having been shot by her boss, DCI Gene Hunt, three months ago.
Back in CID a lot has changed; with Gene on the run, Ray Carling has been promoted to DI and is running the show, while DC Chris Skelton and WPC Shaz Granger have ended their romance and new Discipline and Complaints officer, DCI Jim Keats, is breathing down everyone's necks.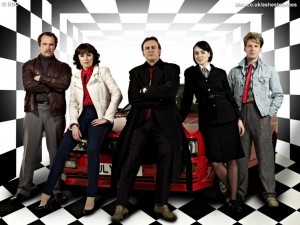 6 April 2010 Update
The new Series of Doctor Who will have its US premiere just two weeks later, 17 April, on BBC America.
Also, while the US won't see Series 3 of Ashes to Ashes for a while, Series 2 starts 11 May on BBC America.

Posted from Rockville, Maryland, United States.