You can, too!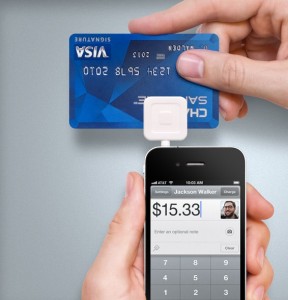 Accept Payments. Everywhere.
With Square, it's easy, and free.
Square is a mobile credit card processing service founded by Jack Dorsey (one of the co-founders of Twitter).
One of the original iPad-only apps (and the very first app I downloaded to my iPad on release day in April 2010), it is now available for iPhone, iPod Touch, and Android devices. The app is free, and once installed, you set up a Square account. Once your account has been activated (now just a matter of days), the small Square Card Reader (also free) is sent to you.
It couldn't be easier – plug the Square reader into the audio jack of your device, launch the Square app, enter details of your sale, then swipe your customer's card, and have him sign (with his finger) and enter an email address. The transaction is processed immediately, and an email receipt is sent, which includes the location of the transaction and, optionally, a photo of the item sold.
The Square app for iPhone or Android works well enough, but the version for iPad is still the best experience. You can set up a library of items for quick access, and the larger screen makes the signing process much easier.
You may also enter the card information manually, but the processing fee will be higher (see below).
You don't have to be running a store, or any kind of business, to use Square. Anyone can sign up for the service and get a free reader. If you want to be able to split a bar tab with friends and have them pay you via credit card, you can get a Square account and reader, and you'll be ready to swipe your buddies' cards to get paid.
It's understandable that you might have security concerns. I certainly did at first. Fortunately, the folks at Square have thought everything through. The actual credit card information is never stored on your device. It goes right from the reader to Square for processing, and everything is encrypted. You can read more about Square security here.
Sure, there were some early problems…
The initial charge limits were far too low – with a daily limit of $100, and a weekly limit of $700, on the rare occasion that I would like to accept a credit card, I would easily exceed the daily limit. Fortunately, Square managed to completely rework their underwriting to get those limits increased. There is now no limit on how many or how large a payment you can accept. The first $1,001.00 per week is immediately deposited to your bank account (and typically available the very next day). The remaining amount is deposited within 30 days of the transaction.
There were also production problems with the first batch of readers. In a letter to users sent on 18 June 2010, "The Home Stretch", Jack Dorsey stated that the company "released parts of Square before they were fully baked", and that the whole team was hard at work resolving the issues.
As a result, it took months to get readers shipped out. They started with a small number of hand-picked customers, and worked out the kinks from there. A couple of weeks after I signed up in April, my account page showed that my reader was about to be shipped. A week or so after that, the status went blank, then I didn't hear anything from Square until the end of August, when they asked to verify my financial information.
My reader finally arrived on 8 October, and worked flawlessly the first time, on my iPad. Not so lucky with my new iPhone 4, however. It seems that the original version of the reader made a metal-to-metal contact with the external antenna of the iPhone 4, and the resulting interference made it unusable. You can't blame them, really, since none of the existing devices at the time the reader was designed had the metal band antennae of the iPhone 4. I tried a number of hacks with o-rings and small bits of paper, then finally got it to work with some very thin plastic film. It isn't pretty, but it works.
In the photo below, the original reader is shown on the left, complete with the plastic film insulator. The new and improved version, which works with the iPhone 4 right out of the box, is on the right.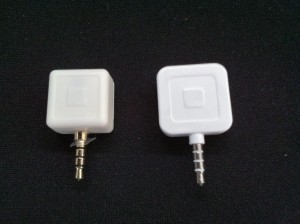 One week after the reader arrived, I found myself teaching a SCUBA class on a Saturday morning, and two of the students had not yet paid the course fee. I said that I could accept credit cards on the spot, and they both jumped at the opportunity to try this. I handed over my iPad to each student, and five minutes later, had done $850.00 in charges, and both had already received their email receipts. The money, less the transaction fees, was in my bank account on Monday. Sweet!
I had started to write up this blog entry in late October, but held off when I got a notice from Square that a new version of the reader was on its way. The new one arrived a few days later, and it works on both my iPad and iPhone 4.
The good news…
Free App
Free Card Reader
No Merchant Account
No Monthly Fees
Competitive transaction fees (2.75% for swiped transactions, 3.5% + 15¢ for keyed-in transactions)
No monthly minimum
If you do a lot of credit card transactions, you'll probably already have a merchant account and a dedicated card reader. If, however, you don't find yourself doing enough credit card business to justify the monthly fees and minimums, Square might be just what you need.
22 February 2011 Update
Starting today, the 15¢ fixed fee on swiped transactions has been dropped (was 2.75% + 15¢ per transaction). The 15¢ fee remains in place for manually key-in transactions.

Posted from Rockville, Maryland, United States.
I was awakened this morning by a very mild earthquake.
Even though it was magnitude 3.6, and the epicenter was about 10 miles away, it just barely woke me, and I wasn't really sure at the time if was a quake or if a particularly heavy freight train had just passed. After all, I live pretty close to the railroad tracks, and have learned to sleep through quite a bit of rumbling. Also, it's not unusual for pictures on the wall to rattle a bit when a big train goes by.
Still, I had a vague sense that this was not just a train. Checking the USGS web site, I discovered that this had, in fact, been the largest earthquake in Maryland since the 3.1 Hancock, MD tremor in 1978.
There was no damage anywhere that I could see, and although Twitter traffic didn't show anything, I soon found quite a few Facebook statuses mentioning the quake ( the majority seem to have slept through it).
No car alarms, no sirens, and a lot less shaking than in the San Francisco area quakes I've experienced.
Still, it's something to talk about. Almost worthy of a blog post.
The USGS places the precise epicenter at 39.167°N, 77.252°W:
View
July 16, 2010 Earthquake
in a larger map
…at least for some people, at least at this moment.
I've been waiting for the iPhone version of Google Latitude for months. It's a nifty way to find out where your friends are, or which ones are close by. It might seem like a loss of privacy, but if you're already blogging, tweeting, and/or Facebooking your life away, this shouldn't bother you too much. Also, it has some pretty nice privacy features to allow you to hide when you want, as well as to control the quality of position you show on a person-by-person basis.
The Latitude page has been saying that it's coming soon for iPhone and iPod touch for quite some time. I've been using it on my laptop for several weeks, but if I want to keep my location updated, my phone is the obvious choice of device from which to do it.
If you have an iPhone, chances are you can get Latitude working, though it might take a few tries. On Mobile Safari, browse to m.google.com/latitude, and you will either get right in to Latitude, or you will get a "Coming Soon" page (which is what I got, at first).
Just keep reloading the page every once in a while (I had to do it 6 or 7 times), and you may eventually find yourself using latitude. Press the "+" on the bottom toolbar, and add a shortcut icon to your Home Screen, so you can get back to it.
13 December 2010 Update
After nearly a year and a half, Apple have finally allowed the Latitude iPhone app onto the iTunes App Store. Google had originally submitted their app, but Apple "suggested" that it be released as a web app, instead. Get the app here (US iTunes Store).

Posted from Rockville, Maryland, United States.