I've only been riding for a month now, and slowly building up as I go.
Today, I went with an REI class on the W&OD Trail. While I didn't actually manage to go the full distance with the group, and had to walk up a couple of the hills (not all of them, though), I put in 10.4 miles, which is more than double my longest previous ride.
I also took my first fall today. It looked pretty dramatic, quite a bit of blood, but it's not so bad. No stitches required.
I think I'll lay off riding for a few days until my leg heals, but I'm absolutely planning to get back in the saddle again.

Posted from Rockville, Maryland, United States.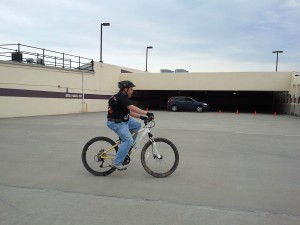 The photo above doesn't look like anything to be proud about, until you consider the facts that I'm in my mid-fifties, and up until this past weekend had never been on a bicycle in my life. I was raised in West Virginia on a mountainside with unpaved roads and scary steep grades. This was also well before mountain bikes were available.
So why now?
First, I have been looking for some form of exercise I can actually enjoy. I have come to realize that I just don't like going to the gym, and neither Sailing nor SCUBA Diving is really very much of a work-out (and they're also not things I can easily do more than once every week or so).
Second, with the acquisition of Isilon Systems by EMC Corporation, I suddenly have an office I can use which is just two miles from home. Better yet, the entire commute is on designated Bike Routes.
With those factors in mind, I started researching what it would take to get into biking with no prior experience, and thanks to REI Outdoor School, I was able to at least get a good start in a single weekend. By late Sunday afternoon, I was getting up on the bike and riding around entirely on my own for a couple of minutes at a time (though I still need a lot of practice before I will really be in control).
I've already ordered my bike, which should be ready for me in about a week. I'm really looking forward to doing a bike commute and to hitting the many wonderful trails in my area.

Posted from Rockville, Maryland, United States.