Make no mistake, I'm very pleased that Fringe returned on 1 April, and Stargate Universe comes back from a 4-month hiatus tonight (2 April), but I'm even more excited with what's in store on BBC One this weekend
The biggest one first, even though it comes second (as they both involve time travel, it doesn't matter). On Saturday, 3 April, the eleventh Doctor (and the youngest one ever), Matt Smith, arrives for his first adventure in "The Eleventh Hour":
The Doctor has regenerated into a brand new man, but danger strikes before he can even recover. With the TARDIS wrecked, and the sonic screwdriver destroyed, the new Doctor has just 20 minutes to save the whole world – and only Amy Pond (Karen Gillan) to help him.
And on Friday, 2 April, Philip Glenister and Keeley Hawes return for a final time in the time-travelling drama Ashes To Ashes:
The third and final series of Ashes to Ashes is back – and it's a real slap in the face for DI Alex Drake. Time travelling copper Alex thought she'd made it home to the present day, but wakes to find herself in a hospital bed back in 1983, having been shot by her boss, DCI Gene Hunt, three months ago.
Back in CID a lot has changed; with Gene on the run, Ray Carling has been promoted to DI and is running the show, while DC Chris Skelton and WPC Shaz Granger have ended their romance and new Discipline and Complaints officer, DCI Jim Keats, is breathing down everyone's necks.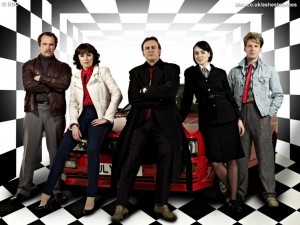 6 April 2010 Update
The new Series of Doctor Who will have its US premiere just two weeks later, 17 April, on BBC America.
Also, while the US won't see Series 3 of Ashes to Ashes for a while, Series 2 starts 11 May on BBC America.

Posted from Rockville, Maryland, United States.